Excerpt from Home and Textiles Today
The ZEEQ Smart Pillow from Protect-A-Bed now connects with Amazon's Alexa. REM-Fit's ever-evolving ZEEQ Smart Pillow responds to voice commands, adjusts alarm times, changes settings and even provides sleep data.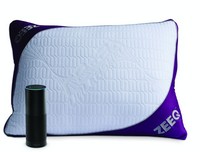 Built to track sleep via app, play audio through integrated speakers, and even end snoring via SnoreAlarm.